Testimonials
Transformational Creative Coaching
Tressa Berman, Ph.D.
Here's what selected clients say about working with Tressa on their creative and transformational projects:
"Tressa's encouraging process reminded me that it's worth it to make time and space for curiosity and openness, even (especially?) when we're rebranding."
"The investment of time and effort I put in with Tressa's private creative coaching has been settling with me ever since. I often go back to the exercises we worked together to clear my mind and get creative. I am fearless now when it comes to applying for residency programs even if they seem out of my reach,  I stretch out and let myself go with confidence and certainty.  I am able to put together these very challenging projects and feel completely qualified, and this gives me a sense of community because I am making myself into the artist I dreamed myself to be."
"My sessions with Tressa helped to prime me for a major job shift. From our conversations I started looking at jobs I hadn't explored before. To my surprise, I was offered a job quickly, which was an answer to the change I was yearning for, as I felt guided and supported in my creative pursuits. By doing the exercises, my old doubts and anxieties gave way to a sense of clarity that helped me to seize the moment when the right opportunity came. The program really helped me prepare for that moment indeed!"
"In six quick weeks, Tressa got me to see the big picture, its small and medium-sized details, and how to make all the pieces inspire and nourish each other. With Tressa's help, my mojo multiplied."
"After only one intensive coaching session I was able to work through a major creative block. Thanks to Tressa, I'm now emotionally equipped to fearlessly pursue my artistic aspirations."
"Tressa showed me a lot of valuable tools that enhanced me as an artist and helped to me take my next steps as a gallery owner. Her passion and sincerity are authentic and I would highly recommend taking any of her courses or trainings. Her encouragement paired with her knowledge will enhance you as you go down the creative path."
"Tressa's attention to the artist mind helped focus my vision. As a result of doing the exercises she suggested, the work I was looking for quickly manifested."
"The Transformational Creative Coaching Workshop was enlightening. It was like being taken by the hand and guided step by step in the direction of fulfilling my personal vision."
"Tressa's coaching and remarkable insights provided a foundation from which I could expand and focus at the same time. Her Breakdown to Breakthrough course guided me to an awareness of both the practical and the emotional components of creating a business. Tressa's style of group coaching was exceptional. It helped me to structure my process, make reasonable step by step goals, and, ultimately, allowed me to produce strategies that brought my idea into reality."
"In a short amount of time, Tressa helped me to pin-point the root of a big issue of not being motivated, not spending time in my creativity, and the solutions she offered were simple and impactful. I have a full plate of tools I can use now in the moments when I feel stuck in my emotions. This feels like a new opportunity to create a new life with new habits, to break out of toxic habits, and remember to do self-care for myself through my journey."
"Sometimes it takes a deep listener and some gentle questioning to find what you are looking for. Tressa is that listener. With her well organized assistance I was able to find small pockets of resistance that were blocking my way forward."
"Tressa Berman, of Transformational Creative Coaching, is a heart-full, mindful, business expert that helped to guide me on my entrepreneurial journey. Tressa's well thought out and strategic guidance was instrumental in my business planning to navigate my way forward to success from coast to coast!"
"Tressa's one-on-one coaching skills helped me to craft an effective message for my clients. Her guidance and feedback were tremendously valuable in shaping accessible and efficient public messaging about and for my artists and projects."
"Tressa is a highly skilled advisor with fresh perspectives and keen insights. Her knowledge across many disciplines coalesced in meaningful ways in informing the strategic planning process for our enterprise."
"I found Tressa Berman's TCC training to be extremely helpful. She helped me to train my mind and redirect my thoughts in order to present myself in a more confident manner. This process is enabling a more successful future for my creative business."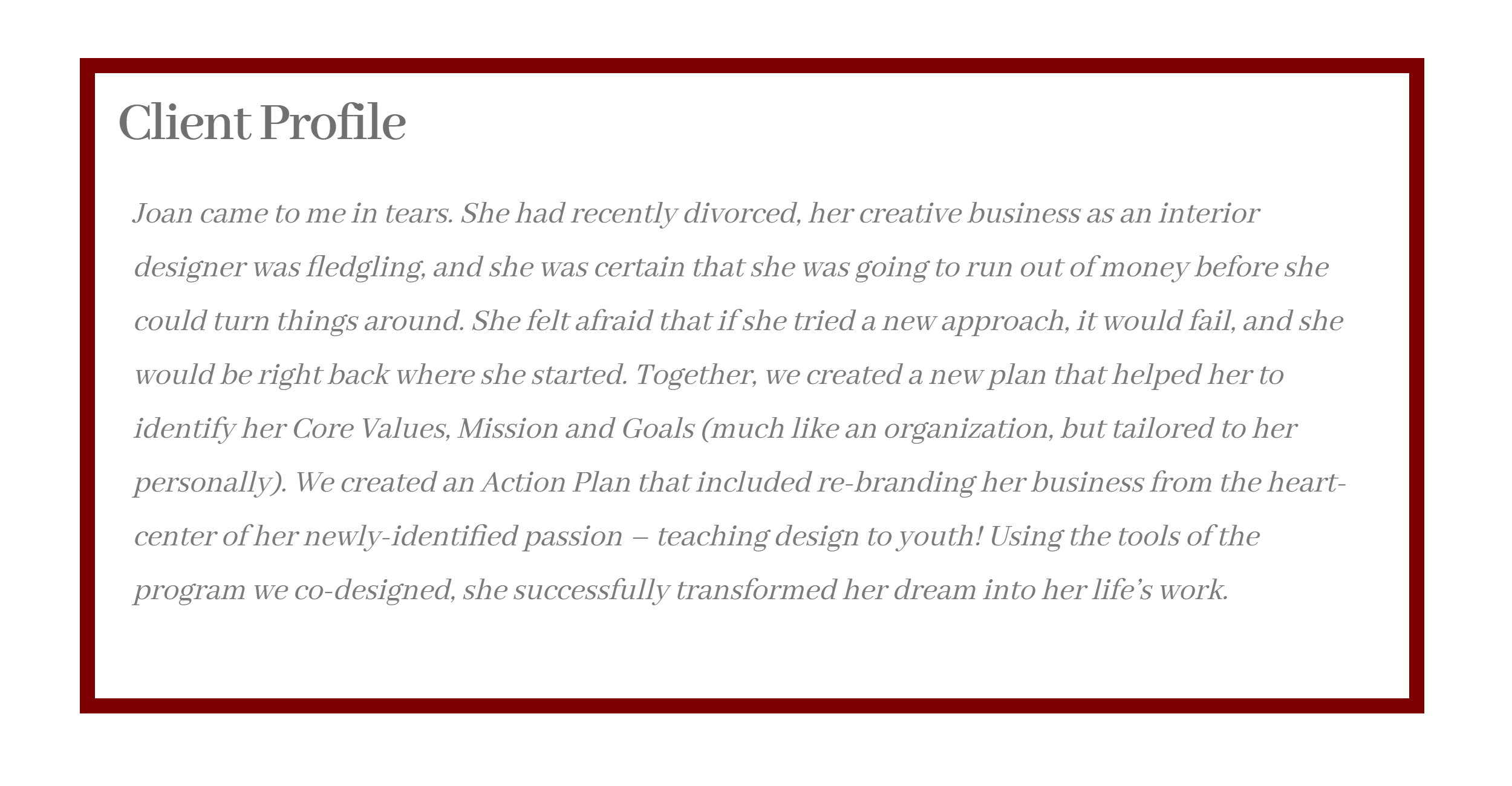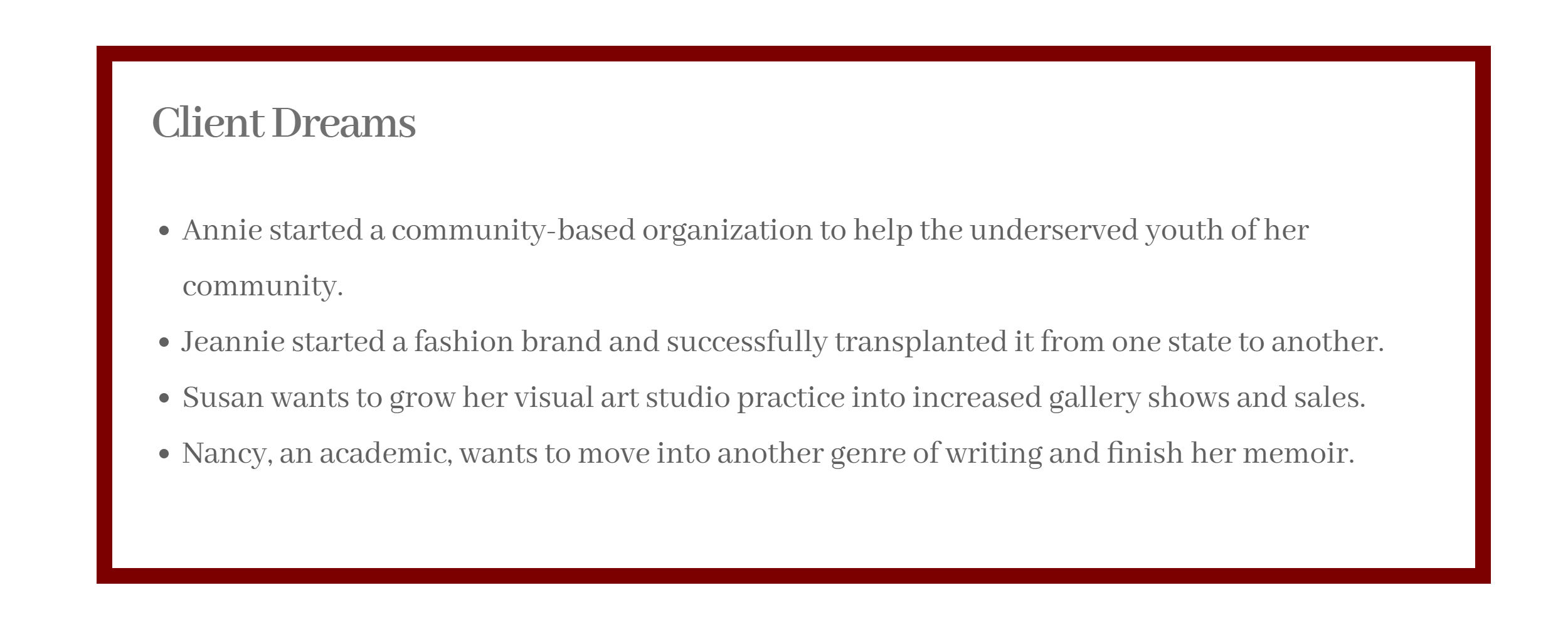 In addition to tailored coaching programs for your own project, group workshops and trainings enable peer-to-peer support and mindfulness-based training tools for creativity to flourish.
Here's what participants had to say about Tressa's Mind-Body-Writing workshops:
Tressa was great at making me feel relaxed for my first experience with meditation. It is challenging for me to calm my thoughts and quiet my mind, but I was able to do so with her instructions. The creative writing assignment after a meditation was perfect. It allowed me to take everything out of my mind and put it on paper. Thoughts that I did not even think ended up on the paper. I really enjoyed the exercise and assignments!
– Tanesha Bryan, The Station House Co-Work Space, St. Petersburg, Florida
Tressa possesses a wealth of knowledge on various methods of self-inquiry writing to help uncover the nature of our mind. With gentleness and precision, Tressa guided us through various prompts and provided space for discussing and sharing our work. It was a profound weekend full of insightful conversations and genuine connections. She is a master at creating a safe and expansive space for creativity to thrive.
– Christie Rainbeau, former Program Director, Shambala Meditation Center, St. Petersburg, Florida
I am also available for One-on-One Coaching sessions and packages.
Please contact me to learn more.
Creativity Moves Mountains